When it comes to classic online casino games, it doesn't get much better than Wolf Run. You can make lots of money while having fun. Isn't that the dream?
The Wolf Run casino game started as a physical casino game, but its success was so staggering and unprecedented that IGT released a standalone version for computers in 2010. And just two years later, they released an online version of this hugely popular slot game. It has since made its way into the hearts of many gamers and is here to stay.
IGT is the sole developer of the Wolf Run slot game. Like Wolf Run, many of IGT's online slot machine games have gone on to be huge successes in the gaming industry. Some of their other familiar games are Cleopatra, Cats, Da Vinci Diamonds, Wheel of Fortune, and Megabucks. Check our slot review to discover all the advantages of the slot!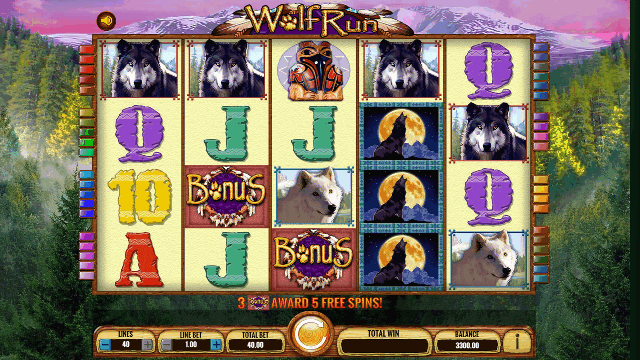 Wolf Run Slot Overview
There's a reason the Wolf Run slot game has won the hearts of many gamers. It is simple, user-friendly, has exciting bonuses, free spins, a great theme, stacked wilds, and a low-medium variance. All of these combine to give an excellent gameplay experience. Again, classic casino games don't get much better than Wolf Run.
The game is very entertaining, and its wonderful features will keep you glued to your screen. Many users complain about the graphics, and admittedly, it could be better, especially when you compare it to other modern games, but that also means it runs smoothly without lags and breaks in play. In other words, uninterrupted fun.
On that subject, you can also adjust the graphics setting to what your device can handle. The fact that the online Wolf Run slot machine is very user-friendly is a huge plus and rarely seen in modern games.
How Wolf Run Works?
Wolf Run's gameplay is straightforward; we cannot possibly overstate that. Try it anyway! Its simplicity means beginners will find it easy to get used to the game's mechanics.
This slot has five reels with four rows. The total paylines of the online Wolf Run slot machine is forty. The RTP of the Wolf Run online slots is 94.98%, and that is a very respectable figure in the gambling and gaming industry today.
Wolf Run does not have a progressive jackpot or payout system, but you can still have a great chance at hitting the jackpot. There is an autoplay option on the free Wolf Run slot machine online, which, as the name suggests, involves the machine spinning for you. You can stop the spin manually. The slot machine automatically stops spinning when you run out of cash or have to move to a new round.
There are forty paylines on this slot, as mentioned earlier. Wolf Run allows you to choose the number of paylines you want to activate. So while 40 is the maximum, you can select 10, 20, or even one payline. The most fun you'll get with all the paylines active. You can also choose your bet per line.
Play wolf run slot game and discover that bet range starts at 1 pound up to a maximum of 200 pounds per spin.
One weird thing about Wolf Run free online slot is that they don't have paytables implemented. Yes, you read that right. There aren't paytables at all. Although rare, the absence of paytable is not uncommon in many online slot games.
Symbols and Theme
There are quite a few symbols in Wolf Run, with different maximum payouts. There are two categories of symbols – the regular playing card symbols and the wolves symbol.
The regular symbols are playing card values, like Ace, Jack, King, and Queen. They are represented with A, J, K, and Q, respectively. There are also symbols with the numbers 9 and 10. Ace and King have the highest maximum earning among the playing card symbols, at 150 coins. The remaining have a maximum of 100 coins. All playing card symbols have a minimum earning of 5 coins.
The wolf's symbols pay more. The three main wolf's symbols are the white, black, and howling wolves. The white and black wolves have the same minimum and maximum pay of 25 and 400 coins. The howling wolf is the highest paying symbol, with a chance to win up to 1000 coins.
The theme of the game is centred around wolves. No surprise there. The background is of dark forests and mountains, and some of the symbols are of howling wolves under the full moon. There are also the familiar forests, mountains, and wolves sound effects. I mean, the whole wolf's package. Its theme, graphics, and sound effects all mimic 'the Vegas experience,' something users absolutely love.
Bonus Features
There are great bonus features on Wolf Run. To start with, this slot game has stacked wilds. The howling wolf symbol is the wild symbol of this slot. While gaming, you will see a whole reel or even more stacked with these wild symbols. This corresponds to more winning combinations.
Another feature is the free spin. The free spin trigger is three bonus symbols anywhere on the second, third, and fourth reel. The first prize you get is your bet amount doubled. After this, you get five free spins. You can always retrigger the free spins if the bonus symbols land on the three middle reels. The maximum number of times you can retrigger this in a single session is 255,255!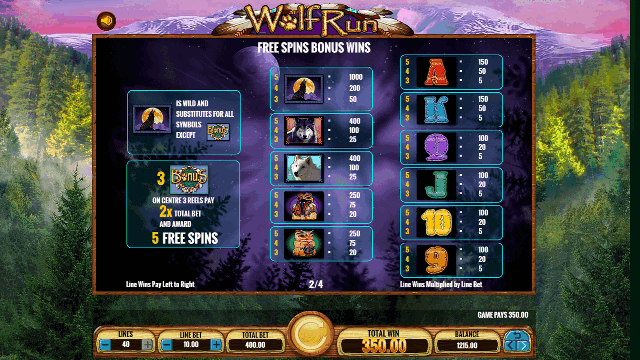 Beginners Tips
The Wolf Run slot game has a rather simple design and gameplay, so there isn't much that you wouldn't easily find out while playing the game.
However, there are a few tips that will help you enjoy yourself fully, draw up a winning combo and streak, as well as stand a chance of winning big.
Start with the demo. You can play the Wolf Run slot game for free at first to familiarize yourself with its workings and mechanics. The demos also bring lots of fun, especially when played with friends and relatives.
Optimize your graphic settings. The graphics of the online slot game aren't great, and the game may lag if your internet connection is poor. You can adjust the graphic settings to receive the best gameplay experience.
Use all forty active paylines for the best playing experience.
Wolf Run vs. Other Slots
| | | | | | | | |
| --- | --- | --- | --- | --- | --- | --- | --- |
| Slot name | RTP | Volatility | Paylines | Rows | Reels | Free spins | Bonus rounds |
| Wolf Run | 94.98% | Low to medium | 40 | 4 | 5 | + | – |
| Quick Hit | 94.06% | High | 30 | 3 | 5 | + | + |
| Buffalo | 94.85% | Low to medium | 1024 | 4 | 5 | + | + |
Mobile Experience
Wolf Run is compatible with both Android and iOS devices. For iOS devices, you can play on both an iPhone and an iPad. This slot game is available for download on mobile and can also be played on computers.
You can decide to play online as opposed to downloading the game. If the graphics setting is not right for your device, particularly when your internet isn't all that great, you can always adjust it in settings.
Conclusion
Free online Wolf Run slot machine is one of the most enthralling classic casino games today. It retains many of its physical casino Vegas features and remains very simple. The game is suitable for everyone, both young and old, above 21, of course. The game's simple nature also means beginners will have no problem catching on to the ins and outs. As you may rightfully guess, huge money and cash prizes also awaits if you can master the Wolf Run slot games' nuances. It's a great game all around.
FAQ
How to play Wolf Run for fun?
You can play the Wolf Run slot game just for fun on the demo. No hidden charges or commitments whatsoever.
Can I play Wolf Run without download or registration?
Yes, you can play Wolf Run by IGT online for free without downloading it to your device or registering.
How to choose a place to play?
There are many casino websites where you can play Wolf Run online.
Who is the provider of the Wolf Run slot machine?
IGT.