Beer, pretty barmaids, pub, casino game, what could go wrong? You're right, nothing! That's the dream, and WMS has brought it to life in Bier Haus. So that you know, Bier Haus translates to 'beer house.' Check our Bier Haus slot review to learn more. The aesthetics alone are enough to make anyone want to play, but this slot game has far more than just aesthetics. It takes gambling to a whole new level. WMS takes us to Munich, Germany, for this classic to celebrate Oktoberfest. There's something about WMS and iconic games that we cannot explain. It is one of the best providers in the gambling industry. They are home to some of the biggest casino games, like Black Knight, Jackpot Block Party, Great Zeus, Dragon Wheel, and so much more.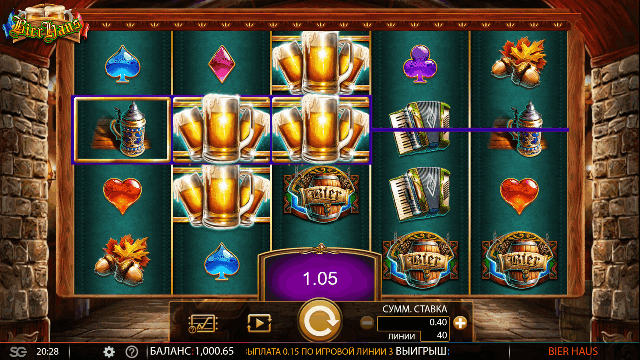 Bier Haus Overview
The theme of the Bier Haus slot game is beer and festival-related. Its design, animation, and sound effects help to create a wonderful pub atmosphere. We like the sound effects a lot so let's tell you a little about it. Playing the game feels like you are in a pub with background discussions and people laughing. If you play Bier Haus with headphones on, you will get disconnected a bit from reality. There's more. While playing the bonus round, you can hear a bar song play in the background, and we must say, you'll enjoy winning a lot more with the refreshing bar song. Aside from the soundtrack, the graphics are bold and colourful, making it among the best today.It's not all about aesthetics, though. Many operators and dealers argue that the actual gameplay weighs far more than aesthetics. Well, Bier Haus has good gameplay too. The Bier Haus slot game mechanics is simple enough for new users to get the hang of it in mere minutes. As well, Bier Haus casino game has free spins. So, aside from an already brilliant design and gameplay, there are free spins that increase your chances of winning lots of coins, prizes, and cash. These features will leave you stuck to your mobile devices, continuously spinning that wheel, in beer terms, that's like a beer you can keep on drinking without worrying about a hangover.
How Bier Haus Works?
There are five reels and four rows in the online Bier Haus slot machine. The reels in Bier Haus are not tumbling. There are forty paylines in the slot game. To win, you have to land at least three similar symbols on a payline from left to right. This will set a winning combination. The game has an RTP of 96%, but it wouldn't matter too much if you hit a lucky streak, as you can win a whole lot more. The minimum amount to bet in the Bier Haus slots is one cent while the maximum is 200 dollars. Players can adjust the bet per payline. The jackpot in the Bier Haus slot game is not progressive. Hitting the jackpot will still earn you a big payday with the right combo, though. There aren't  slot bonus rounds; however, you can win a lot of money in the free spins. There is an autoplay feature for people that intend to spin the wheel. The symbols on slot machine Bier Haus are either beer festival-related or playing cards-related. The beer festival-related symbols are a German man, custle, beer glass, bier, acorn, and accordion. For the playing cards, the symbols are ace of diamonds, clubs, spades, and hearts. The playing cards-related symbols are low-paying, and all carry the same value. On the other hand, the beer festival-related symbols are high-paying and don't carry the same value. The man symbol is the highest paying symbol in Bier Haus slots, followed by the custle, the bier, the accordion, the beer glass, and the least-paying of the festival-related symbols is the acorn. Three biers symbol is also a Wild. Bier Haus online slots have two scatter symbols, both in the form of a barmaid. Scatter symbols can be either gold or regular.
Bonus Features
Operators can trigger the free spin feature by landing five normal or gold scatter. Once activated the feature, the player gets five free spins. There are two ways the free spins can play out, depending on the scatter symbols involved. While both symbols give five free spins, if the gold scatter symbols trigger the free spin rounds, they will remain on the reels throughout the free spin rounds. Gold scatter symbols reappear after the bonus rounds have been triggered and act as sticky wilds. So, if you're lucky and gold scatter symbols appear early during the free spin rounds, your chances of winning big will greatly increase. If standard scatter symbols trigger the free spins, they won't remain locked, and the free spins will proceed as normal. The free spins can be retriggered up to eighty times.
Beginner Tips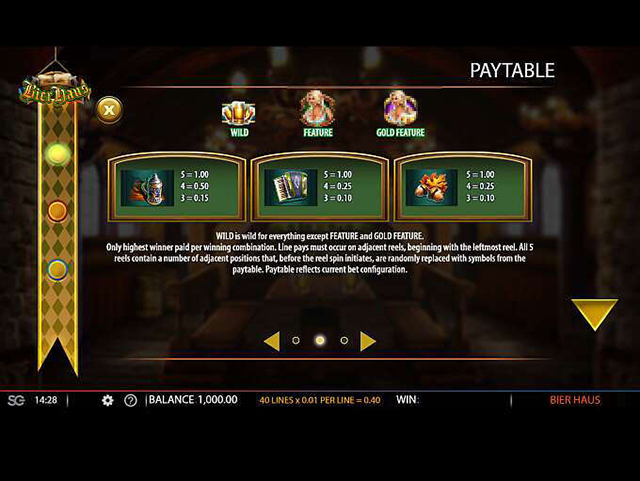 This game's volatility is unpredictable. It is recommended for beginners to play Bier Haus slots online for free before playing with money. The free online Bier Haus slot machine is similar to the paid version. There are also other benefits, like allowing the user to familiarize themselves with the game mechanics without risking their cash. This will lead to a better gaming experience when playing with money. Beginners can also draw up winning combinations in the demo, allowing for easier understanding when they start staking with real cash.
You should know that you cannot cheat the game, although you can get free Canadian slots coins in some online casinos. You can, however, study the game carefully to know how coins are earned on the free Bier Haus slot machine online.
Bier Haus vs Other Slots
| | | | | | | | |
| --- | --- | --- | --- | --- | --- | --- | --- |
| Slot name | RTP | Volatility | Paylines | Rows | Reels | Free spins | Bonus rounds |
| Bier Haus | 96% | Low | 40 | 4 | 5 | + | – |
| Quick Hit | 94.06% | High | 30 | 3 | 5 | + | + |
| Wolf Run | 94.98% | Low to medium | 40 | 4 | 5 | + | – |
Mobile Experience
Bier Haus slot game is compatible with mobile devices, both phones and tablets. Android and iOS users can enjoy the games on their respective devices. There is no apparent edge on the type of device you use.You can also play Bier Haus slot online for free on a desktop with all the mobile slot game features remaining intact. Bier Haus free online slots are also the same as on the paid version on mobile devices and personal computers. The simple gameplay, design, bold and colorful symbols, refreshing soundtrack, and animations all work together to give great mobile experience.
Conclusion
Bier Haus online slot is a classic casino game with a great theme, design, and gameplay. The graphics aren't particularly modern, but they are good nonetheless. It doesn't matter whether you are a beginner to casino games or an avid gamer; you will definitely enjoy the game. Bier Haus' low volatility also appeals to beer lovers who are just trying the game out just for the fun of it with no real intentions of staking very high. Play Bier Haus by WMS online for free. This slot's free spins are very rewarding, and players stand a chance of winning big on it.
FAQ
You can play Bier Haus slots by WMS online for free if you're just looking to have fun. The low volatility of the game also means you can stake very little and still have a lot of fun.
Yes, you can play Bier Haus slots online for free on several websites on the internet.
Can I play without download?
Yes, you can play Bier Haus slot game without downloading it to your mobile devices or personal computer.
How to choose a place to play?
There are many online casinos where you can play. Look for a reputable one with lots of good reviews and play Bier Haus slot game on it.
Who is the provider of the online Bier Haus slot machine?
WMS – Williams Interactive.